I'm currently building a Chinese carbon bike (frame/wheels/saddle) and getting it as light as possible on a budget ($3000)...when I bought my bike I had it sitting right around 18lbs...as of 6/9 it's at 17lbs and I'm hoping by the end of the year to have it under 14lbs (depends on the rim depth I decide on though).
You can view the whole album at
photobucket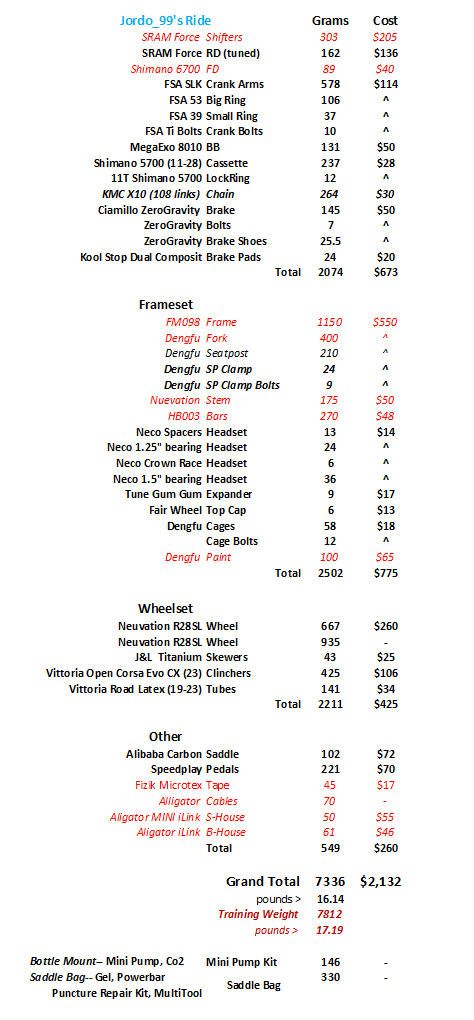 Upgrades for 6/9:
- [/b]Tuned expander and top cap/bolt with gum gum and fairwheel combo (-26g)
- Tuned SRAM Force RD with blue KCNC Ultralight pulleys (-10g)
- updated weight list above...anything in bold was individually weighed...total weight is now corrected
- Currently waiting for a few parts to arrive...carbon saddle will drop 100g and new skewers will drop another 80g.
- One last update...I'm currently working out pricing on a set of wheels from FarSports. If I go with their 38mm carbon tubular wheels (and tubular tires) I'll drop close to 750g on top of that.
Update for 6/21:
- Carbon saddle is 102g on my scale (-100g)
- Skewers are 43g (-76g)
- Upgraded to Zero Gravity Brakes 206g with shoes/pads (-50g) -- YES, I did get them for $50.
I took a risk buying them "as-is" and it paid off!
- Replaced bottle cage bolts with stuff I had laying around (-6g)
- Ordering some new bottle cage bolts that come in at 3g for 4...should drop another 9g or so.
- I also got around to taking apart my crankset to weigh everything separately to get a better idea how where I can cut weight. (+32g over what I had before)
- I've also weighed the neco headset pieces
After all this, I still need to weight the frame, fork, spacers, stem, handlebars, cabling, shifter, chain, cassette and FD.
I'll also be weighing the shoes/pads on the ZeroGravity brakes when I replace the carbon pads for aluminum brake tonight.
For the upgrade/tuning path, I'm looking at wheels next, then the pedals and crankset. After that It's sort of up in the air...it'd probably be best to go with a different frame at that point but I'll likely keep pressing on with the handlebars/stem. Starting to wish I went with BB30 instead of BSA due to the extra weight but every time I ride with my friend I hear his BB creaking and I feel a little better about it.
Update for 6/26/2012:
Got a KCNC (11-28) Cassette off ebay recently.
Still trying to figure out what wheels I want to buy...thinking 50mm carbon tubulars.
Update for 7/5/2012:
added a few more weights for parts...still a lot missing but I have totals now:
7.34kg race weight (no pumps/bags but including garmin mounts and cages)
7.81kg training weight (minipump, Co2, saddle bag...etc)
Update for 7/15/2013:
Upgraded to SRAM 2013 Red group (cassette is Force and kept my brakes the same).
Upgraded bar tape to black Lizard Skins DSP 2.5mm (no 1.8mm at LBS)
Upgraded handlebars to Zipp SCL2 42cm
6805g race weight
7045g training weight