I sold my Spinergy Rev-X wheelset after the Time Trial Championship. It was a hard decision,
as it had taken me several years to get them, after numerous years of dreaming about them,
but I had rarely been using the front wheel and the rear one even less so.
Time for something new, I suppose.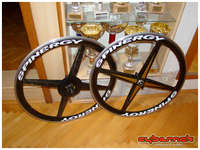 I had also decided to make my TT bike compatible with my new road bike, so I equipped it with
Dura Ace 7900 10-speed bar end shifters, 7801 10s chain and 7800 12-21 cassette - simply perfect
gear ratios for TT racing (12 to 21 teeth - all by a single tooth difference).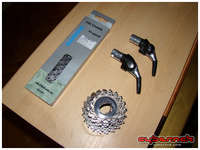 Full-size photos:
http://photos.cybernck.com/plasmanck2?page=4