Here's a more-or-less complete and brand new Dura Ace 7900 groupset. I decided to stick with
10-speed for compatibility reasons. As this story is presented retroactively, I can say that
I'm amazed with DA. STI's are so light and precise, especially on up-shifts, brakes are amazing
and the carbon pedals make for noticeably easier spinning! I prefer Ultegra's front derailleur
action over DA's though.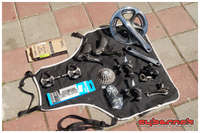 You can check the detailed weight info and comparison with Ultegra parts in
my gallery
.
Having some fun - after disc brakes, will this be the next big thing in road cycling?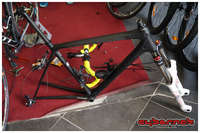 And here it is, all built up together with my PRO Vibe 7s 130 mm stem, PRO Vibe 7s 44 cm handlebar
and Fizik Arione CX Braided saddle (591 g for the three), 6700 Ultegra wheelset with Continental
GP4000 tyres (2414 g for the set), cables and grease. The total weight is 7250 grams - which makes
it exactly 400 grams lighter than my ex-CR1.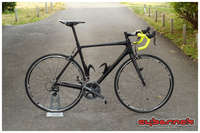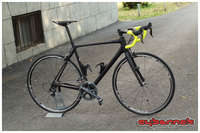 The frameset is very stiff due to tapered head tube, wide bottom bracket and no shock dampening
in the forks. It accelerates fantastically (especially on climbs) - and amplifies the excellent
Dura Ace anchors. However, it comes with a penalty - the ride is rather harsh compared to CR1's,
it feels as if the tyres have 2.5-3 bars more pressure in them and the chainslap occurs regularly
on small rear cogs over bumps, due to the rear fork design (and I hate chainslap with passion).
On the other hand - the handling... oh, the handling! I know that the previous Addict has been
praised for it but I am blown away now I have experienced it myself. It feels so positive and
planted in the corners, while combined with super-sharp steering it makes for an outstanding
ride and easily overshadows the downsides of this race-oriented frameset.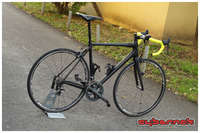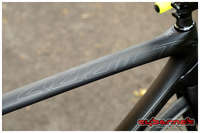 To recap - it has taken me some time to get used to riding the Addict, as it's nothing like CR1's
"magic carpet" ride, but now I have, I find it very rewarding and don't look back. Dura Ace groupset
is also a vast improvement over Ultegra and plays a great role in the grand scheme of things.
Now if I could only get rid of the chainslap...
Full-size photos:
http://photos.cybernck.com/addicted?page=2