So I figured this bike might deserve a thread of it's own (feel free to disagree
), not a proper ww at 8,7 kilo all in and about 8,2 kilo without bottle, tools, bag, spares, garmin etc.
I've been in love with the aesthetics of TT bikes for a long time now, but I really can't get along with the ´freight train´ handling of them, so this is my version of both having the cake and eating it. The frame is originally built around a taller fork that takes mudguards and long reach brakes, so with a normal road fork the angles are fairly steep and the handling is quite twitchy/tippy toes - I love it!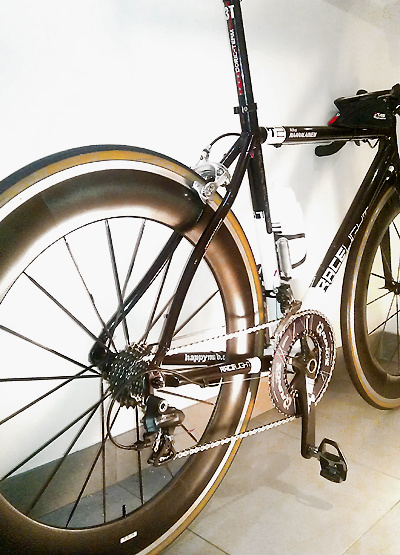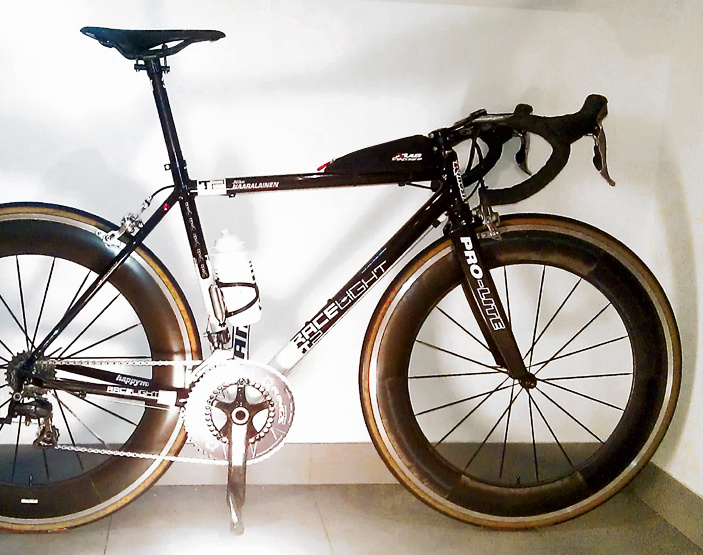 FRAME Kinesis RaceLight T2, 51cm 1640
FORK Pro-Lite Giavanni Carbon 310
HEADSET Pro-Lite Ampezzo 58
HEADSET EXPANDER M Parts 28
TOPCAP/BOLT Tune 4,5
SADDLE Fi'zi:k Antares Carbon Braided 145
SEATPOST 3T Doric Team, 350mm 178
SEATPOST CLAMP KCNC Road Lite SC7 w/ steel bolt 17
BOTTLE CAGE Tune Wasserträger 9,5
STEM USE Race, 80mm/8º 160
HANDLEBAR Zipp Vuka Sprint SS 230
BRIFTERS Shimano 105 5700 489
BAR TAPE Deda Elementi 40
F. BRAKE Shimano Ultegra 6700 165
R. BRAKE Shimano 650 Long Reach 185
CRANK ARMS Sram RED, 172.5mm 487
CHAINRINGS Rotor Q-Ring Aero 54t / Q-Ring 39t 192
BB Hope Ceramic w/ GXP converter 107
PEDALS Shimano Dura-Ace 7900 248
CHAIN Shimano DuraAce 7801 230
R. DERAILLEUR Shimano Dura-Ace 7900 166
F. DERAILLEUR Shimano Dura-Ace 7900 67
BRAZE-ON CLAMP BBB ShiftFix 14
WHEELSET Sram S80 2090
RIM STRIPS Sram 36
SKEWERS Aerozine XQ2.0 44
CASSETTE Sram RED OG-1090, 11-25 161
TUBES Vittoria Latex w/ Zipp valve extender 155
TIRES Challenge Criterium Open Tubular, 23mm 420
CABLES Shimano SIS SP-41/SP-51 38
HOUSING GEARS Shimano SIS SP-41 31
HOUSING BRAKES Shimano SIS SP-51 70
WATER BOTTLE Tacx Source 500ml 74
FRAME BAG XLab Stealth Pocket 200 44.5
PUNCTURE REPAIR KIT Park Tool GP-2 Super Patch 3
MULTITOOL Topeak Mini-9 [Modified] 38
CHAINTOOL Topeak Super Chain Tool 36
TIRE LEVER Tacx Tire Lever 12
SPARE TUBE Random lightweight butyl tube 75
CO2 PUMP Lezyne Trigger Drive 22
CO2 THREADED CARTRIDGE Lezyne 16g Co2 * 2 116
CO2 CARTRIDGE HOLDER BBB Co2Hold 12
COMPUTER Garmin Edge 500 57
COMPUTER MOUNT Sram Quickview 20
MISC Zip ties, grease, etc... 15

TOTAL 8.739,5